about us





biography
Barbara Ryman first studied Jewellery at Alexander Mackie in Sydney. After attaining her Diploma in Art there in 1978, she went on to study at Randwick TAFE where she completed her Jewellery Design Certificate in 1980. Since then she has worked as a Contemporary Jeweller specialising in the area of Enamelling, concentrating on the techniques of Cloisonné and Champlevé.
Barbara returned to study at the Gold and Silver Smithing School, Faculty of Arts, at the Australian National University and graduated in 2006 with a Graduate Diploma of Art (Visual). During this period of study she took the opportunity to explore a new area of enamelling; she experimented with more spontaneous enamelling methods, sifting dry opaque enamels onto three dimensional forms and the enamels were under-fired to create granular textured surfaces.
During her studies Barbara was invited to attend a workshop in Japan where she learned some Japanese enamelling techniques. During this time Barbara strengthened her ties with the Japanese enamelling community and was invited to return for more studies.
Barbara has taught Enamelling and Jewellery making at a variety of tertiary institutions, schools, workshops and adult education classes (teaching experience).
She has exhibited both in Australia and overseas, particularly gaining recognition in Japan where there is a strong tradition of Enamelling. (exhibitions)
ENAMEL STUDY IN JAPAN
In 2006, Barbara received a Skills and Arts Development Grant from the Visual Arts Board of the Australia Council. This enabled her to return to Japan in may 2007 and take up her invitation to study with Sakurai San, a retired craftsman of the Ando Enamelling Company in Nagoya.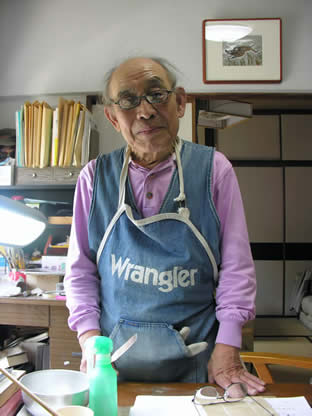 Tsuruya Sakurai
Barbara continued her private studies with Sakurai San in the Japanese Autumn of 2010 and Spring of 2011.
In April 2012, she was invited to attend a workshop at the Shippo Art Village in Nagoya. She was joined by Jane Short from England and Harlan Butt from America for this exciting and unique experience.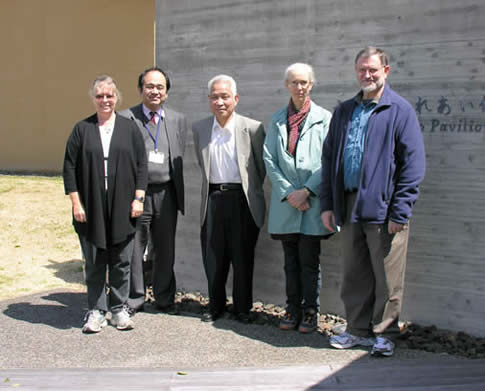 Barbara Ryman, Kobayashi San, Hattori San, Jane Short, Harlan Butt