about us





studio news
etching + champleve enamelling at studio 303, sydney 2018
etching + champlevé enamelling, sturt winter school 2017
fragment
painting with fire, studio 303 2016
the fiery and colourful art of vitreous enamelling anu 2016
mcgregor summer school 2016
dreams and shadows, solo exhibition 2014
mcgregor winters school 2013
sturt summer school 2013
shippo art village project 2012
brymfull design studio makes a tree change
mr sakurai visits the illawarra
mr sakurai's workshops in queensland
PAINTING WITH VITREOUS ENAMEL at McGregor Winter School 2018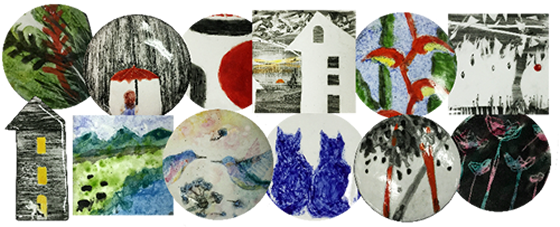 ETCHING + CHAMPLEVÉ ENAMELLING at Studio 303, Sydney 2018

ETCHING + CHAMPLEVÉ ENAMELLING at Sturt Winter School, 2017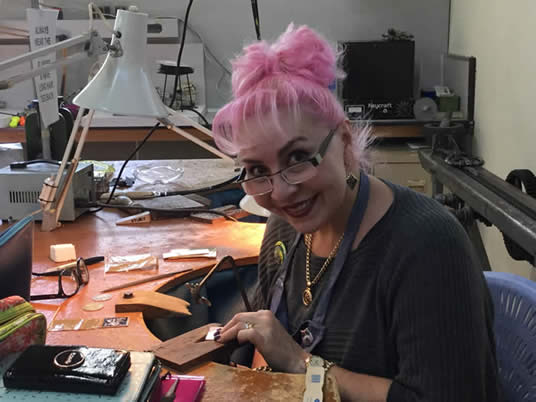 Galina busy at the bench.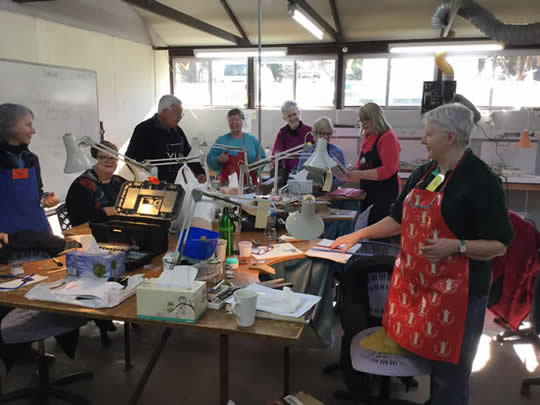 Discussions in the jewellery room at Sturt.
FRAGMENT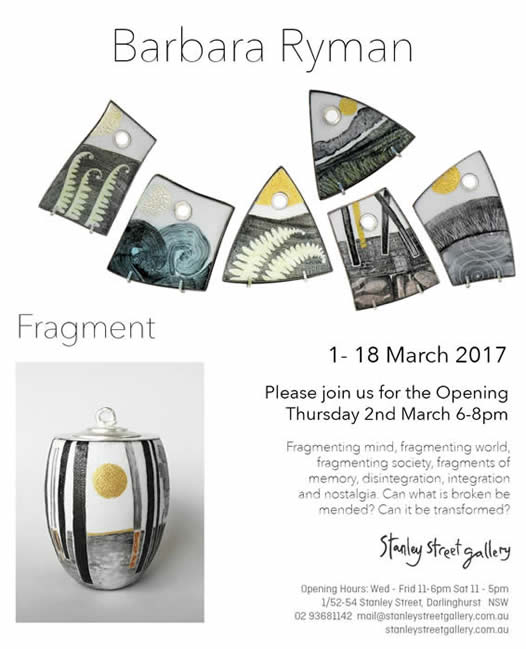 "Painting with Fire" at STUDIO 303, Sydney 2016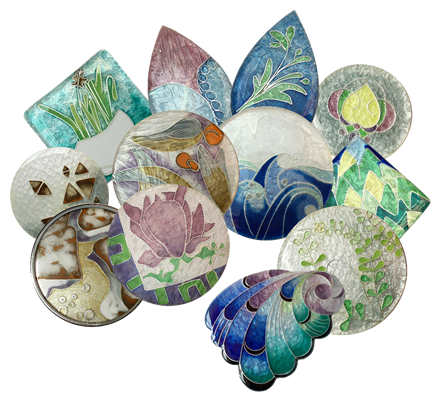 "The Fiery and Colourful Art of Vitreous Enamelling", Gold and Silversmithing Workshop, School of Art, ANU 2016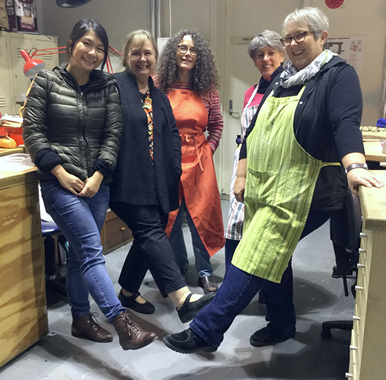 MCGREGOR SUMMER SCHOOL 2016
I've been looking forward to adding some spectacular images for you after the Summer School. And here they are; a luscous platefull of beautiful enamels! My hard working students explored Cloisonné, Basse-Taille texturing, Sifting and Stencilling, P3 drawing and some excellent Sugar-fired frosty surfaces. What a feast!!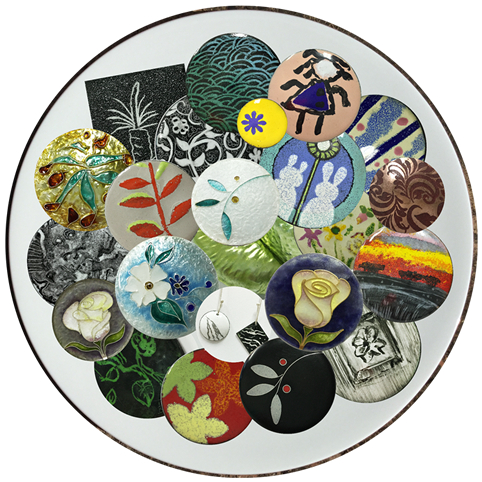 DREAMS AND SHADOWS, STANLEY STREET GALLERY, SYDNEY 2014
I have spent the most pleasurable and intense time in my workshop exploring and creating for my Solo Exhibition which I named Dreams and Shadows.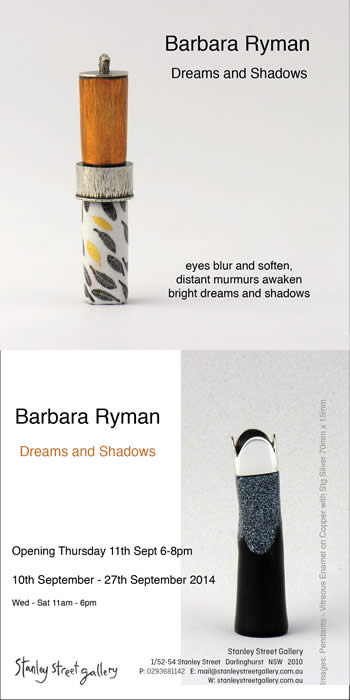 MCGREGOR WINTER SCHOOL 2013
Here is a beautiful selection of work made by the students at the McGregor Winter school at University of Southern Queensland's Toowoomba campus.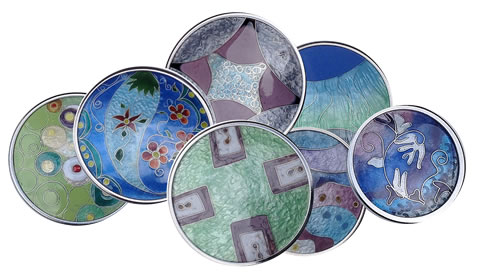 STURT SUMMER SCHOOL 2013
Sturt Summer School, held in the Sturt Workshops of Frensham School in Mittagong, is always an inspiring event. I was there to give a workshop on Basse-taille and Cloisonné Enamelling. The Jewellery Workshop is in a great position in that we get to hang out with all the woodworking students who occupy the workrooms around us. Seeing all the exciting work being produced in the many courses is incredibly stimulating. As a Tutor who has taught at Sturt many times over the years, I get such a buzz from mingling with my fellow Tutors. It is a special and concentrated time, quite unique, of creativity and sharing.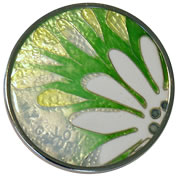 Barbara Ryman - This sample brooch uses opaque white on the flower contrasted with transparent colours in the background that overlay the textured and stamped fine silver base. Pale yellow blends to pale green, then slightly darker green. Pale grey blends into pale green and clear enamel. These pale colours allow the texture underneath to create a vibrant and rich element to the work.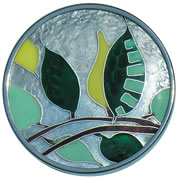 Vicki Londish - Vicki's design developed from looking up through leaves to the sky. The opaque greens and the dark transparent green of the leaves and brown of the stem contrast beautifully with the luminous pale blue/grey sky of the background.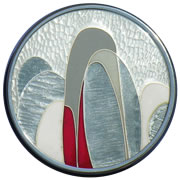 Amy Jenkin - Amy's brooch shows a design based on the Bungle Bungle Ranges. She has used four opaque colours and then colourless and grey transparent enamels that allow the texture below to show through brilliantly.
SHIPPO ART VILLAGE PROJECT, Owari Province, Japan 2012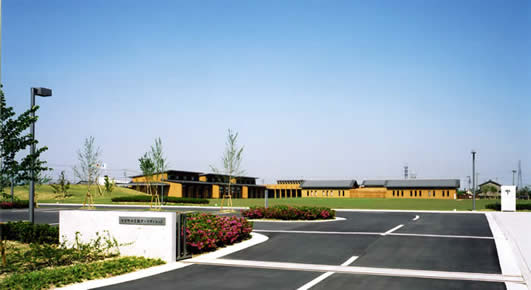 Shippo Art Village
I have had the pleasure of visiting, in 2005 and 2007, the Shippo Art Village, a beautiful low modern structure surrounded by wide lawns in the Owari province, near Nagoya in Japan.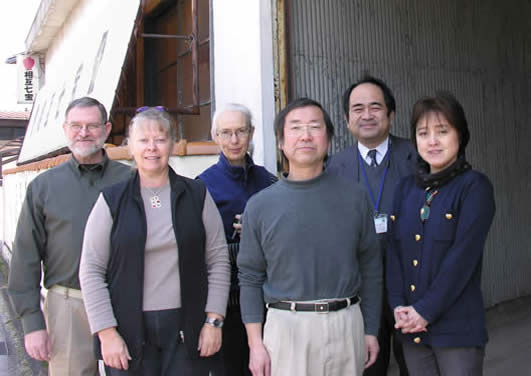 Harlan Butt, BR, Jane Short, Mr Yamada, Mr Koboyashi & Mrs Yamada
In 2012, I accepted an invitation from the Shippo Art Village to return to the historic site to learn about Japanese enamelling techniques. Mr. Hiromasa Kobayashi, a curator at the Shippo Art Village and manager of our project, asked if I might suggest two other participants. I thought of Jane Short from the UK and Harlan Butt from the US, who are well known and highly skilled enamel artists. I was delighted when they consented to join me for this unique opportunity. Both had spent time studying in Japan many years before and they looked forward to returning. We were joined by Osaka Enamel Artist and friend, Kazuko Inomata.
We spent five days in the workshop of local shippo artists Mr. Kanji and Mrs. Noriko Yamada, under the tutelage of Mr. Takafumi Aikawa. The Shippo Art Village's project provided a unique experience, and the chance to study the fascinating history of the region and appreciate the valuable work of this significant organization. It was a privilege to be invited into the private realm of the Yamada shippo workshop where passionate enamellers from four cultures shared their love of shippo together.
BRYMFULL DESIGN STUDIO MAKES A TREE CHANGE.
Brymfull Design Studio has now moved to Tahmoor. This is more or less just 'over the hill' from Thirroul where many of you came to my old studio. My new studio is bigger and very comfortable.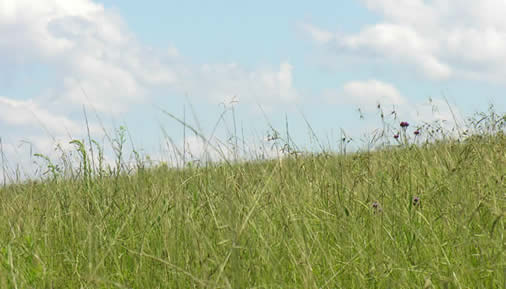 MR TSURUYA SAKURAI VISITS THE ILLAWARRA 2009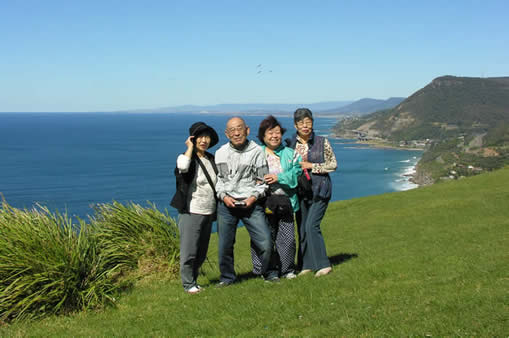 Junko Tanimura, Mr Sakurai, Kazuko Inomata, Mrs Sakurai
In September 2009, my Sensei, Sakurai San, returned to Australia to teach a workshop at the Gold and Silversmithing Workshops in the School of Arts at the Australian National University, Canberra. Mr Sakurai was accompanied by his wife, Ms Inomata (assistant and translator) and Mrs Tanimura (a member and official of the Japan Enamelling Artist Association. She came to observe the workshop and assist Mr Sakurai).
They flew into Sydney on the day of the big dust storm and were diverted to Melbourne for many hours while I waited at the Sydney Airport filling in time. After they eventually arrived, I drove them to my house in Thirroul where they spent a few days enjoying our spectacular local scenery and relaxing in my garden with the occasional beer and barbecue!
I had a day in my Studio with my Sensei, which as you might imagine, was such a privilege and a joy.
Then I drove my friends to Canberra where Helen Aitken Khunen, convener of this workshop and Johannes Kuhnen (Head of the Gold and Silversmithing School) introduced them to a wonderful group of keen enamel students. The very successful and productive workshop lasted five days. Our friends then had two days rest where their hosts, Helen and Johannes, showed them a little of Canberra. A highlight was going to feed Helen's horses and seeing a huge mob of kangaroos in the paddock.
This was Mr Sakurai's second visit to Australia to teach and it has been my great pleasure to be able to introduce this knowledgeable, generous and enthusiastic man to the Australian and New Zealand enamellers who attended his workshops.
MR TSURUYA SAKURAI'S WORKSHOPS IN QUEENSLAND 2007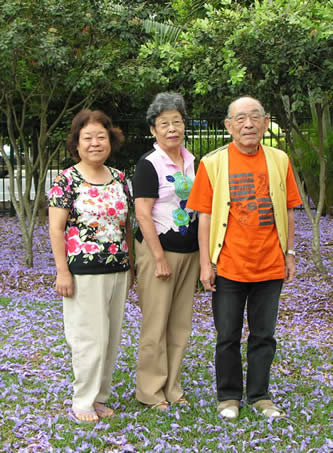 Ms Kazuko Inomata, Mrs Sakurai & Mr Sakurai
After studying with Sakurai San in Nagoya Japan in 2007, I was delighted to facilitate my teacher's (sensei) visit to Australia to deliver two workshops at the Enamel Symposium in Queensland. It was my great pleasure to introduce him to the many Australian enamellers there.
He taught two wonderful workshops at the Symposium, assisted by Ms Inomata and his wife. His students spent a delightful time learning from this warm, charming and knowledgeable master of the Japanese enamel art.