about us






Memento
In October 2002 I was invited to be an Artist in Residence in the western NSW town of Hay. My quarters were in the Artists flat at Bishop's Lodge, a beautiful historic building. My initial visit was for the purpose of running a jewellery making workshop for interested residents and gathering information about the Hay's five museum sites. My study would then be used to develop and create a collection of new work based. I returned to the town in 2003 to teach and start making.

Bishop's Lodge Historic House and Heritage Rose Garden Hay
BISHOP'S LODGE
As someone who has always been interested in alternative house design, I was able to appreciate Bishop's Lodge not only for its history, beauty and grace, but also for how it was so thoughtfully designed to suit the challenging Hay environment. The Lodge became my home during my periods of residency and I roamed the house and gardens soaking up the atmosphere, communing with ghosts and breathing the perfume of the roses as they filled the sun warmed air.
I walked where previous residents had walked, I sat and dreamily watched the garden and the weather as others had. Heard sighs and laughter. Our hands touched the same door, the same gatepost, we leaned against the same windowsill, sat on the same seat. We shared this house but our paths can never cross.
A Bishop's life must have been a busy one full of responsibility, obligation, duty and other peoples needs. I sat in the Secret Garden and felt the peace and serenity and I could imagine a Bishop slipping off to this place, a place of physical and spiritual retreat, a place of renewal and refreshment. It is a place where the beauty of God's handiwork could be seen and breathed in to your very being.
BISHOP'S LODGE MEDITATION STONE "Be still and know…."
Roses with their thorns and their blooms can be used as a metaphor for pleasure and pain. I wondered, would a Bishop who loved roses think of Christ's crown of thorns being made up of rose stems?
On the Bishop's Lodge Meditation Stone I used the image of a thicket or tangle of thorny bramble at whose centre lies a single rose. It symbolizes the search for beauty and goodness and reason amongst pain and confusion. It may not be necessary to search; maybe it is enough to accept that at the centre of life is something beautiful and perfect beyond our comprehension. I thought of one of my favourite Bible verses, simple and profound.
Psalms 46:10
Be still and know that I am God.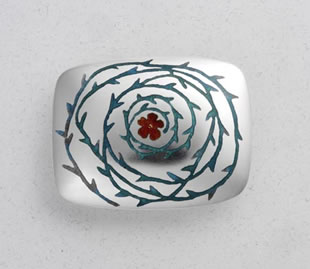 THE BISHOP'S CROSS and THE BISHOP'S RINGS
I thought too of how irresistible is the urge to smell a rose. We are drawn down into the centre of those delicate blooms and when we breathe in, we inhale a perfume that can lift our spirit and mind to transcendence. We are momentarily transported and transformed.
I imagined the Bishops wearing their Cross or Rings embossed with roses and rose leaves. Wherever they were, whatever they were doing, they could touch the cross or rings and recall the peace of the rose garden and the transforming power of the rose's perfume. One ring shows a ram's head and this one denotes the responsibility of the Bishop being 'shepherd of his flock'. I thought it fitting to use the symbol from the shearing comb as the sheep industry is so important to the district.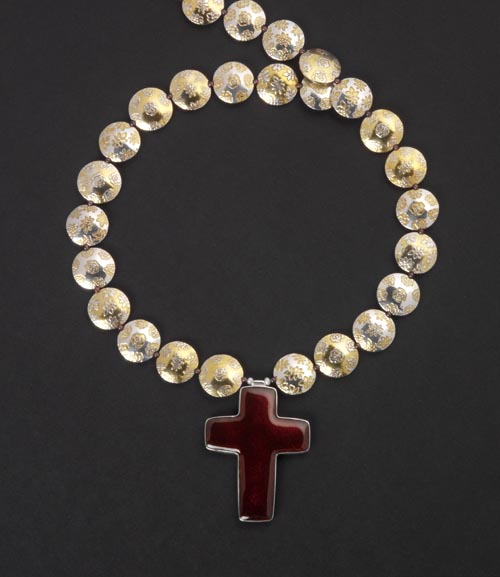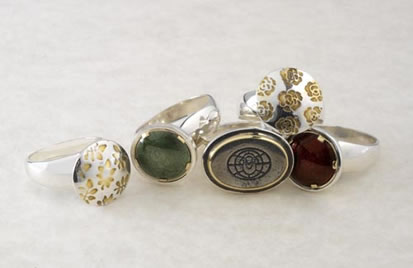 POW CAMP
I read that the Japanese were the least liked and trusted at Hay's POW camp. Whether they were from Japan, or from Broome or Thursday Island, the flat plains of Hay must have been a daunting and alien landscape. I was in Japan a couple of years ago and it's hard to think of two more disparate cultures and environments. David Houston told me about when the Japanese, perhaps hearing rumours that Japan was about to lose the war and fearing they may be executed, were threatening to break out. His father tried to set up a gun site upon the roof of their house where he could command a long view of the street, but he kept dropping the bullets and they rattled noisily down the tin roof to the ground. He told the story comically but it must have been a frightening time for all involved.
How isolated and lost one would feel; not only imprisoned, but looking through the wire to an endless, shimmering horizon, your skin turning to leather in the sun. With what intense longing would one dream of home and mountains and cool, gushing streams. Pondering on this, I composed a Haiku poem -
Yearning for Spring I
breathe in the blossom's sweet air:
my mouth fills with dust.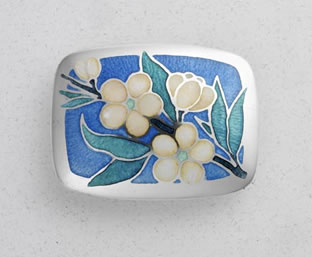 P.O.W. STONE - "Yearning for spring…"
My Japanese Prisoner of War stone shows a branch of plum blossom against a gentle blue sky. This meditation stone expresses longing and nostalgia and the comfort of memory.
HAY GAOL
There were so many exhibits to look at in the Hay Gaol. The aspects of so many lives reflected in every room. The Gaol had been utilized for many purposes and each use had left a memory or a shadow. So many possibilities. I found it overwhelming to try to find a focus until I saw the bark canoe amongst the Aboriginal artifacts. It was a small simple form, quiet and understated. It spoke of unfettered life.
While staying at Bishop's Lodge, I would walk down along the river in the soft warm air of the early evening. The river red gums stood raggedly in monumental and enduring silence. Down by the river I had seen the scar trees. I wondered if the tree from which this canoe had been cut was still alive? The trees provided a living museum that spoke of another time, of other lives. I walked in the memory of another people.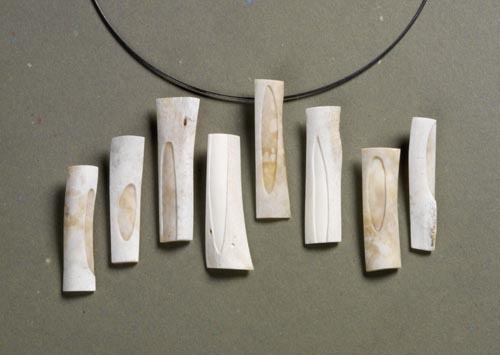 NECK RINGS - "Cicatrice"
I had been experimenting with carving sheep bone. It was amazing how the desiccated surface could be carved through to reveal the glossy material underneath. Often beautiful smudges and patterns emerged. I wanted to use an organic material, a soft material to express the tree forms. I had also seen many dead, bleached, ghostly trees that had been drowned by raised water levels. Bones are the shadows cast after a life has passed; proof of existence. The scar trees are a symbol to me of shadows and echoes of an enduring flow of life along the river.
SHEAROUTBACK
The Shearoutback Museum appeared to me as an austere sculpture settled on the flat plain. Its materials of steel, glass and wood create big clean spaces but when you look at the detail of design and how these materials are brought together, it is cunningly wrought.
Adjacent, along a sweeping pathway, is a beautiful old shearing shed whose form can be enjoyed as you slowly walk towards it. The shed and some big farm machinery, squat in this huge wide landscape and late in the day they cast their long shadows across the dusty canvas.
Inside the museum, a variety of exhibits, visual and aural, brought to life the characters, noise and activity of the shearing industry. Over in the shearing shed, with the smell of lanolin and sheep dung, one of the shearers, Keith, demonstrated shearing while laconically telling us stories. Keith's dog snoozed under the sorting tables.
A particular photograph caught my eye. It was an aerial shot of a mob of sheep being rounded up. They were circling around and formed the shape of a wheel or flower. There was a beautiful rhythm and movement to the image. As I looked around the displays, I saw the shearing machinery, the collection of hand pieces and combs. I loved the patina and colour of the steel polished by years of the grip and caress of rough hands. Looking up I saw the flywheels and became intrigued by their different designs. The picture of the mob and the flywheels started to echo and overlay each other.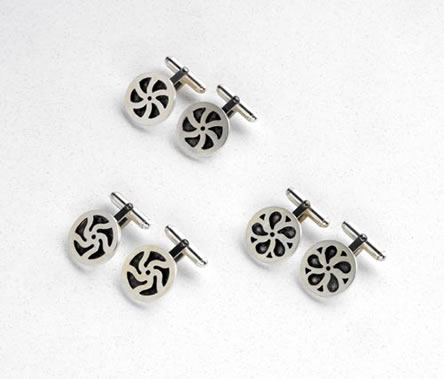 SHEAROUTBACK NECKLACE and CUFF LINKS
The Shearoutback necklace is made up of three shearing wheel patterns that are joined together with plain links and links that are wrapped to give the impression of fencing wire. The necklace is quite light and it jangles and catches the light and gives a feeling of movement and activity. In the photograph of the necklace, I arranged it in a swirl to echo the aerial photo of the sheep and to suggest swirling of dust. You will also see wire wrapped underneath the wheels on the rings.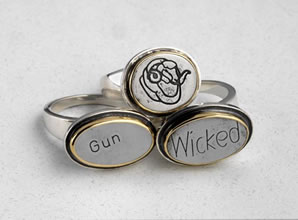 SHEARER'S RINGS
I love the worn, polished surfaces of steel. Even of it is rusty or ravaged it can be polished up to that lovely cool grey. Some kind friends in Hay hunted out their worn out and discarded shearing combs. I found many of them had stamped into their surface the outline of a ram's head, or words like "Gun", evocative of the shearing culture and industry. Some seemed so absurdly current in their usage, like "Wicked" and "Awesome", they made me laughed out loud. I decided to make some Shearer's Rings. I wanted to evoke the noise, sweat, masculinity, toughness, camaraderie and rough housing of the Shed.
HAY

WAR MEMORIAL HIGH SCHOOL
In the gloom before dawn, I moved towards Hay's War Memorial. On that sombre, cool morning I could just discern the silhouette of a military uniform, a gleam of polished brass, shadowed figures, heard muffled coughs and soft voices. ANZAC Day 2003.
Later that morning a big march was held, moving up the main street and around to the High School. As the marchers turned off Lachlan St, a policeman who's car blocked off the road, stood saluting the marchers. I found myself intently watching him as he stood perfectly still in the hot sun, solemn and respectful, superbly upright and supremely still, saluting until all had passed by. At the High School, the days major ceremony was held on the broad front steps. This year was the 80th anniversary of Australia's only War Memorial High School and over four hundred students returned to mark the occasion. The large crowd gathered to hear various speeches. There were two moving presentations of particular note, delivered by a senior male and female student of the High School. Each one's thoughtful speech gave a moving insight into the pain of separation, fear and sorrow that had to be coped with when taking up the mantle of duty of war.
The High School houses a collection of war memorabilia; objects, letters and photographs. I feel so sad sometimes looking at photographs of young faces, soft skin and cheeky looks, all full of anticipation, verve and hope; wonder what their lives had brought them. In the collection is a belt of rough material, a Germans soldier's war souvenir, studded all over with the insignia and badges of various allied forces. "We do not know whether they were cut from the uniforms of dead soldiers as trophies, or swapped during lulls in the fighting" *
The badges represent units of various soldiers but it's more personal than that. Each badge holds within it a whole life of stories and relationships. It's more personal than "Royal Sussex" or "Australian Commonwealth Military Forces" It's Harry, and Bob, father, son, brother, lover. Beloved of someone, whose death would leave an aching hole throughout time.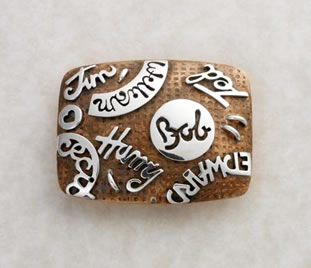 WAR MEMORIAL STONE – "But let my death be memoried…."
My War Memorial meditation stone is covered with the names of men. Real people, loved ones. I found a poem by Wilfred Owens named "With an Identity Disc".
"But let my death be memoried on this disc.
Wear it, sweet friend. Inscribe no date nor deed.
But may thy heart-beat kiss it night and day,
Until the name grows vague and wears away."
My stone is for keeping in a pocket rather than around the neck and though the heart may not "kiss it night and day", held in the hand it will in time be burnished and softened by the action of remembrance.
(*excerpt from Statement of significance for World War 1 souvenir belt in the collection of Hay War Memorial High School Museum, compiled by Martha Sear and Mary Lou Gardam 2002.)